European Foundry Industry Sentiment 2021
In October, the European Foundry Sentiment Indicator (FISI) dropped significantly. The decrease of 1.0 index points was the largest month-on-month drop since April 2020 when the first wave of Covid-19 infections hit Europe. The index value decreases to 106.6 points in October.
In the assessment of the current business situation, the more positive assessments among iron casters compared to the previous month still outweigh the already noticeable downturn among non-iron casters. With regard to the expectations for the next six months, however, the picture in the entire industry is noticeably clouded.
Continuing problems in the global supply chains and the related problems in the automotive industry in particular threaten to limit the recovery of the foundry industry and do not bode well for the first quarter of 2022. Meanwhile, the horrendous costs for raw materials and energy are causing tremendous difficulties in economic production for the energy-intensive foundry industry at the beginning of winter.
While the heterogeneity of the customer sector does not allow a uniform picture of the demand side, on the supply side the entire foundry industry is facing considerable threats. The trends all over Europe are pointing in the same direction.
At the same time, the Business Climate Indicator (BCI) remains on a high level in October. The slight increase of 0.05 points brings the index to its to 1.76 points. The production trend of the past months as well as the sales price expectations for the coming months are slightly increasing thus backing the BCI.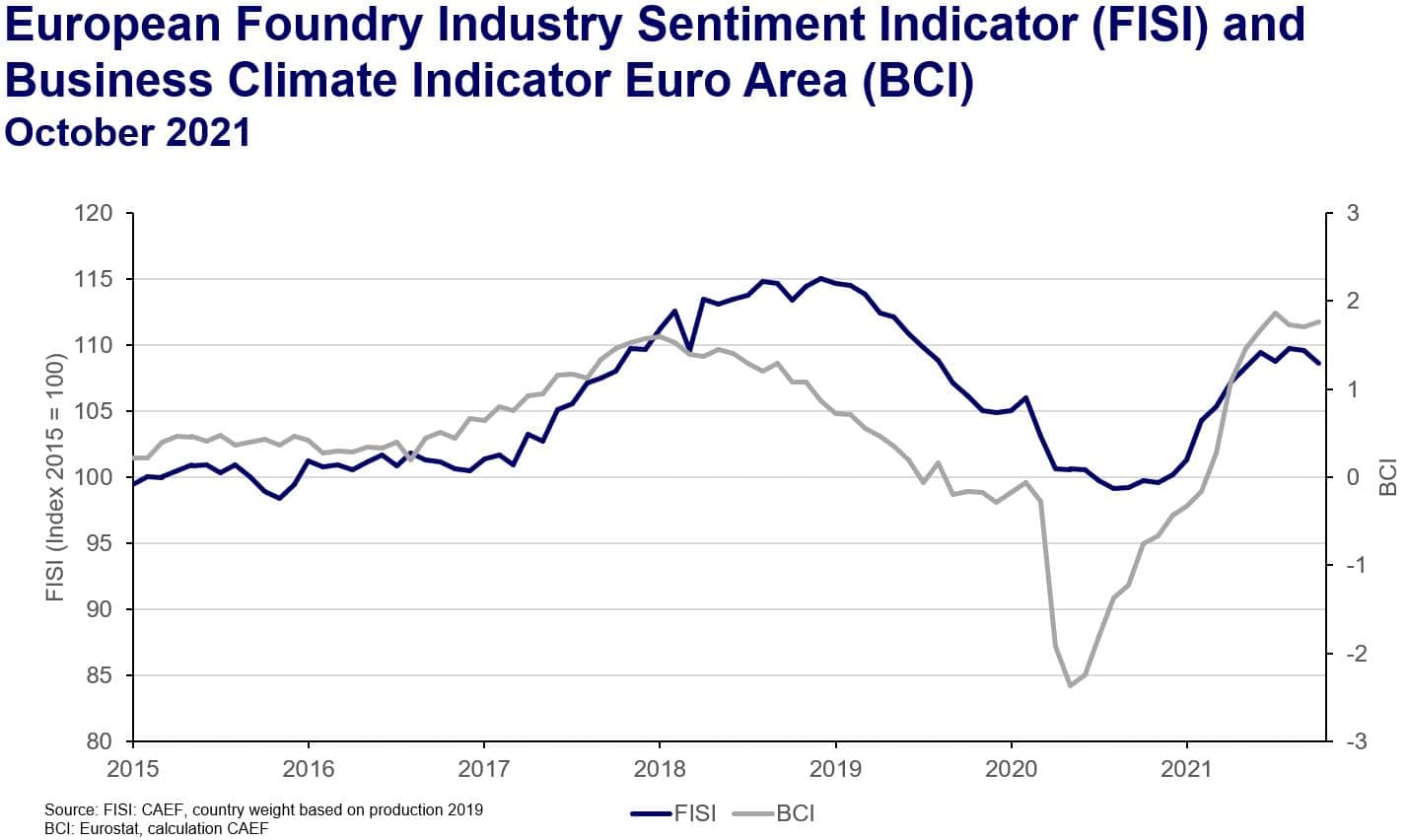 The FISI – European Foundry Industry Sentiment Indicator – is the earliest available composite indicator providing information on the European foundry industry performance. It is published by the European Foundry Association (CAEF) every month and is based on survey responses of the European foundry industry. The CAEF members are asked to give their assessment of the current business situation in the foundry sector and their expectations for the next six months.
The BCI – Business Climate Indicator – is an indicator published by the European Commission. The BCI evaluates development conditions of the manufacturing sector in the euro area every month and uses five balances of opinion from industry survey: production trends, order books, export order books, stocks and production expectations.